Top 10 Best Bluetooth Keyboard Pad In 2022 Review
A Bluetooth keyboard pad allows you to use it using a Bluetooth connection without necessarily having a direct connection with the screen. This makes it simple and easier for you to type without carrying the other parts of your laptop. Below is a top 10 best Bluetooth keyboard pad in 2022 review:
10. Logitech Bluetooth Illuminated Keyboard K810
This product is characterized by an easy switch Bluetooth technology. You can press one button and you switch easily between typing on your tablet, PC or smartphone. It also has an automatic illumination system that adjusts the brightness of the keyboard as per the light intensity of the room. Besides, is rechargeable and you can use your USB to charge as you type. Finally, it is compact and thin to give a stylish design with sleek low-profile keys.
9. AmazonBasics Bluetooth Keyboard for Android Devices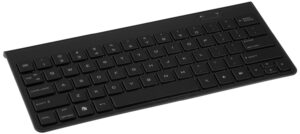 This product is designed to give you the best cable-free connection to your tablet or smartphone. It is characterized by compact and slim design features with scissor-switch and low profile keys. It offers a 30-foot connection range but this may vary depending on the environmental conditions and the settings. This product is also compatible with other devices such as HDX devices and others that support Android 3.0+.
8. iClever Portable Folding Keyboard
Because of its compact and portable design, it is one of the best keyboards to use when traveling. It is convenient and light in weight with a tri-folding ability making it convenient to be carried. Furthermore, this product has a durable and ergonomic design that allows the user type without straining. Its silent keys can allow you to work anywhere without even being noticed. It is amazing!
7. Logitech Bluetooth Multi-Device Keyboard K480 for Computers
This is a universal keyboard that allows you to switch easily between devices. It is very comfortable and you can use it on either your PC, tablet or smartphone without any USB connection. You just turn the easy switch dial and switch to any of the devices you want to type provided it is connected via the Bluetooth. It also has an integrated cradle to hold your tablet or phone at the right angle such that you can see it as you type.
6. Anker Bluetooth Ultra-Slim Keyboard
This is a cross-compatible keyboard pad that can be used on iOS, mac, windows, and android and it has a short cut key for all the operating systems. It is light in weight and compact making it portable and durable. Besides, it has a low power consumption in that it can last for over 3 months when used for 2 hours a day. It has a power-saving mode and a slot for two batteries. This saves on your energy.
5. Logitech K380 Multi-Device Bluetooth Keyboard
This is another multi-purpose keyboard for gaming laptop that allows the user type in all his/her computing devices. It can be used on any Bluetooth-enabled device supporting external keyboard with HID profile. You can connect up to three devices and change between them by just clicking a button. Besides, it has a compact portable keyboard to be carried anywhere within your room with ease. Finally, you will enjoy a 2-year life battery making it the best for power consumption.
4. Airfox K20 Ultra Compact Slim Profile LED Backlit Wireless
It has a Bluetooth 3.0 wireless technology and supports wireless connectivity of up to 10-meter working range. This gives you the freedom and the comfort of wireless technology. This device uses a Broadcom Bluetooth chip technology which saves a lot of power. It uses only 25% of the power rating of other Bluetooth devices. It is compatible with most of the operating systems and has a built-in 800mAh rechargeable battery that can last for over 300 hours when used 5 hours a day without recharging it. Finally, this device gives you a chance to choose from seven different backlit colors.
3. 1byone Ultra-Slim Using Wireless and Bluetooth Keyboard
It has a lightweight and slim design which allows you to carry it anywhere with ease. You can easily store it in your bag and carry around conveniently. It has a built-in touchpad that allows you to use it when you do not have the mouse. It has a long-lasting built-in battery that can last for 90 days of standby time. It has a 10-meter range strong and high-speed Bluetooth technology that allows you to use it anywhere in your room comfortably. Finally, it is compatible with most operating systems that supports Bluetooth connectivity. This allows you to enjoy this technology in a wide variety of devices.
2. Logitech 920-003390 Tablet Keyboard for Android 3.0 Plus
This product has compact and low-profile keys that allow you to have a comfortable typing when using the device. It is supplied with a stand- combo and a case that protects it when being carried around. This guarantees the durability and safety of the product. Its versatile adjustable stand allows the user to choose the best angle to view the screen and this ensures that you are comfortable using it. It saves power and it is very light for easy portability.
1. Airfox K60 Ultra Slim Backlit LED Wireless Bluetooth Keyboard
This is one of the best Bluetooth keyboard pad. It has a compact design with full standard keys that makes typing easier. You can fold it three times to make it easier for you to carry around and store. It has three different unique backlit colors and this gives you a chance to choose the best for you when typing. It is also compatible with most of the operating systems and all devices that allow Bluetooth connectivity. Finally, it gives you a chance to switch between wired and wireless modes and this means that it can be used on any device.
Those are the top 10 best Bluetooth keyboard pad in 2022 reviews. You can buy any of the products and be assured of the best features that make your typing easier and convenient.