Top 10 Best Hot Plates in 2022
Good Cooking is an art like most artists, the best chefs have a lot of tools to work with. These tools help make their job of creating great dishes easier. When you cook, you need tools as well. One of those tools should be one of the top 10 best hot plates in 2022.
These hot plates will give you an extra burner to create your masterpiece. To find the best of the best, simply keep reading. We will give you the information you need.
10. Cuisinart Cast-Iron Single Burner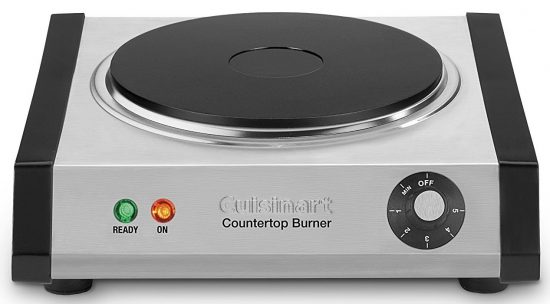 This hot plate brings 1300 watts of power to your cooking time. With 6 heat adjustments, you are in control of the temperature of the hot plate. It also has two indicator lights. One is to let you know it is on, and the other when the burner is ready to use.
What we liked:
6 heat adjustments
Cast iron durability
What we didn't like:
Only 1300 watts of power
Too slow boiling time
9. Ovente Countertop Infrared Burner
Using infrared technology, this 1000-watt hotplate will heat up quickly. Its ceramic materials make this an easy burner to clean. Along with this, you get 5 temperature settings, an indicator light, and rubber feet.
Your food will cook fast and your counters will be protected. Measuring 8.7 x 8.7 x 2.5 inches, it will fit into any size kitchen.
What we liked:
Infrared technology
Small size
What we didn't like:
Glass may be fragile
For small pots only
8. Elite Cuisine Electric Hot Plate
A simple burner for simple tastes. This 3 x 9.5 x 9.2-inch hot plate only has 3 heat settings- low, medium and high. The coil burner flips up for easy cleaning. Limited to only 120 volts this is still a good unit for those times you need an extra burner.
What we liked:
Simple design
Easy to use
What we didn't like:
Only750 watts of power
Only 3 heat settings
7. Duxtop Portable Induction Cooktop
Induction is the hot plate of the future. With 10 heat settings (up to 460 degrees F,), 10 power settings (up to 1800 watts), you are ready to cook with this unit. Also included is a timer, pan detection system. Unfortunately, you can only use magnetic metal cookware with this hot plate.
What we liked:
10 heat settings
10 power settings
What we didn't like:
Not for all cookware
A little noisy
6. Secura Portable Induction Cooktop
The digital control panel has all the buttons you need to operate this hot plate. 15 heat settings, 15 temperature controls, and 170-minute countdown timer. On top of that, there is an error message system and a high/low voltage warning detection system.
The unit measures 14 x 11.4 x 2.1 inches.
What we like:
Countdown timer
Digital control panel
What we didn't like:
Some wiring issues
Some malfunctions
5. Cusimax Double Hot Plate
Two extra burners are better than one. Both elements use 900 watts of power although one is smaller than the other. Two independent controls are located to the left of the hot plate. These controls provide 11 different heat settings.
The cast iron elements are easy to clean and are housed in a stainless-steel frame.
What we liked:
2 900-watt burners
11 heat settings
What we didn't like:
Slow to reach the desired temperature
May get too hot for the counter
4. Cuisinart Cast-Iron Double Burner
This 2-burner hot plate has the elements made out of cast iron and heats up to 1800 watts. The larger unit uses 1300, while the smaller one only 500 watts. Each burner has their own indicator lights and temperature control These controls give 6 heat settings each.
The dimensions are 5.8 x 22.5 x 15.2 inches.
What we liked:
It's independent controls
It's simplicity
What we didn't like:
Some quality control issues
Not enough heat settings
3. Rosewill Induction Cooker
Even though it only has 8 temperature settings, it does have a 3-hour timer, and a large LED display screen. The cooking surface is made of polished crystal plate and is easy to clean.
This touch control hot plate measures 13.6 x 10.6 x 2.4 inches.
What we liked:
Polished crystal cooking surface
3-hour timer
What we do not like:
Need large pots and pans
Only for compatible cookware
2. Cadco CSR-3T Countertop
This all-metal single coil burner unit has infinite heat settings. You can control exactly which temperature you prefer to use. It can boil water in 5 minutes.
Also, you get a rocker on/off switch and an indicator light. It is basic and simple but a little large at 12.2 x 14 x 4.1 inches.
What we liked:
Unlimited heat settings
Rocker on/off switch
What we didn't like:
May overheat and catch fire
Some quality control issues
1. Cusimax Infrared Cooktop
This double burner hot plate uses infrared technology to cook your food. The independent temperature controls are located on the extreme edge of each side of the hot plate. They provide 7 heat settings.
The burners use 900 watts each and the unit measures 23 x 4.3 x 10.8 inches. The rubber feet protect your counter from scratches.
What we liked:
Automatic shutoff feature
Equal size and power for each burner
What we did not like:
Some inequality in power division
On/off switch in the back
Some Final Words
Cooking is a lot of fun. It gets better when you have that extra burner or two to help you out. Purchasing one of the top 10 best hotplates in 2022 is a good start in making your cooking experience better.
Which one you buy is up to you. We are just presenting you with the right information, so you can make an intelligent decision. There are two things to remember. One, while these units are easy to clean, do not immerse them in water.
Two, you need magnetic cookware in order to use the induction hot plates. There are no exceptions to this rule.