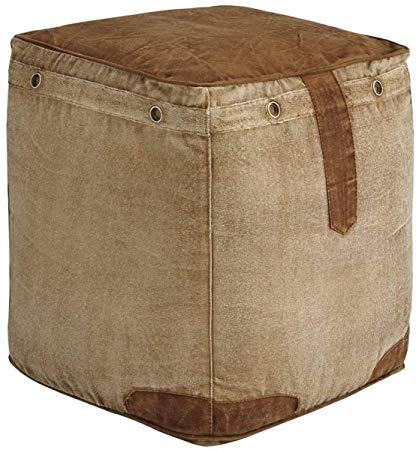 Top 10 Best Poufs in 2022
You may want to consider one of the top 10 best poufs in 2022. These ottoman-like stools provide a soft place for your feet to land. After a hard day, you can let the beads inside mold around your feet and bring you the comfort you need.
These poufs may be small, but they do provide a lot of comforts and do not detract from your room's décor.
10. Ashley Furniture Signature Design – Cinnamon Pouf
The two-tone coloring adds a little old-fashioned atmosphere to your home.  Then with its reinforced corners and fake strap design, you get a little of the old west right in your home. Plus, measuring only 16 by 16 by 18 inches in size, it does not take up a lot of space.
Also, the cotton canvas construction material only needs spot cleaning to stay looking its best. With a zipper closure, you can refill the pouf anytime you need to.
9. Surya Rosenwald Cube Wool Pouf
It looks like a sugar cube, but in reality, it is a soft spot for your feet to end up after standing all day. Measuring 18 by 18 by 18 inches in size, this all wool fabric pouf is waiting for you to use it all evening long.
Made in India and sporting a Moroccan fabric design, you can choose from a variety of colors to make sure you get the one for your home. It is soft and easy to move.
8. Howard Elliott Pouf
Poufs are great when you need an extra seat. This one will work in your home when you have too many guests inside. Its faux leather construction material should complement your home. Plus, it uses recycled materials so you can be eco-friendly at the same time.
Measuring 22 by 18 inches this pouf's outer shell comes off for easy cleaning. Also, these poufs are made tough, so they will last you a long time. Your home will look great when you add a new pouf to its décor.
7. Iconic Home Marley Modern Leather Pouf
The tufted look should add a little extra class to your home. Plus, the PU leather exterior shell is tough enough to handle coffee table duties. Then the 30 by 30 by 20-inch pouf can act as an extra chair when you need to seat more guests.
After a hard day at work, it is nice that you can come home and rest your feet on this soft but sturdy pouf. Just make sure to spot clean it only.
6. The Nixon – Handmade Pouf From The Barrel Shack
This handmade pouf is an excellent addition to your home. Measuring only 16 by 19 by 17 inches total, it won't take up a lot of space in your home. Once inside you can use this pouf to add to your comfort level and give you seating options.
Also, you can be eco-friendly when you rescue this pouf from the department store. It is made from recycled and reclaimed materials. The soft fabric and plush design do not take away from this pouf acting as a coffee table.
5. The Earth Company Hand Knitted Wool Pouf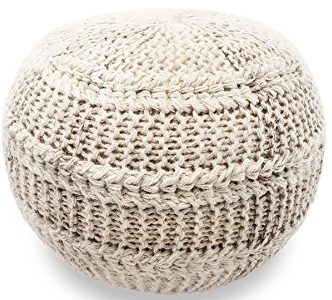 If you like uniquely designed things, then this hand-knitted pouf is for you. Made from 100% wool, this 20 by 20 by 16-inch pouf will become the center of any conversation when you display it. Plus, its plush interior keeps it nice and soft for you to relax on.
In addition to those features, this pouf helps you become more eco-friendly. It is handmade for quality and style. Only the best materials are used in its creation.
4. The Earth Company – 100% Pure Wool Pouf
Wool is a solid and strong fabric to use to make just about any item. This 16 by 16 by 16-inch wool pouf may be what you are looking for. Handcrafted and naturally dyed, you get a top-quality pouf that is eco-friendly.
Also, its multi-use can come in handy when you need an extra coffee or end table to hold trays, cups, and other items. This little pouf does not take up a lot of space and should fit anywhere in your home with ease.
3. Surya. Round Wool Pouf
Here is an 18-inch pouf for those people who like flowers, roses in particular. Measuring 18 by 22 by 12 inches in size, you get a rose-themed pouf that will accent your family room's look. Plus, it is soft to the touch.
Also, the rose-themed pouf is made from wool which makes it tough enough to handle the treatment you throw its way. You can choose between 2 colors to make sure you get the look you want.
2. Keter 228474 Urban Knit Pouf Set
Why by one pouf when you can by a whole set. This 2-pouf, one pouf table set will certainly have you thinking outside the box when you bring it home. Plus, the polypropylene resin construction materials protect against rust while being tough enough to handle your treatment.
Also, under the tabletop, you get a little extra storage space for whatever items you want to put there. Their weight limit is about 242 pounds each.
1. Sunon Round Pouf
The two-tone color helps you find the right spot in your home's décor. Plus, this small-sized pouf can hold up to 200 pounds of weight. There is also no assembly required. Then once you get it inside the soft outer fabric will not be harsh on your feet.
In addition to those items, you also get 4 padded feet that protect your floor and a handy handle to move it to a new location. Convenience and comfort are the names of its game.
Conclusion
Why spend a lot of money for comfort, when you can get the same level of relaxation with a good pouf. You save money when you purchase one of the top 10 best poufs in 2022.